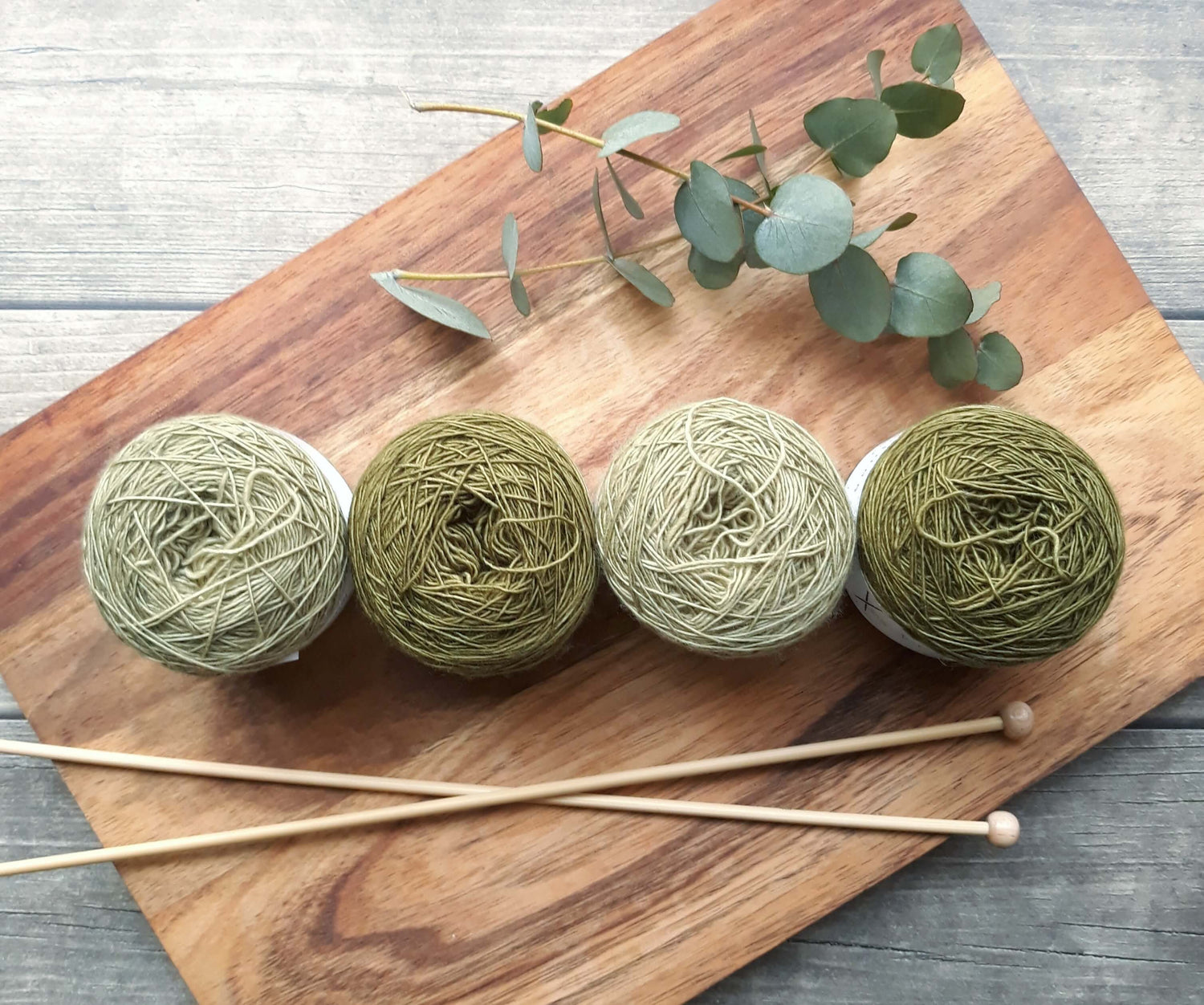 About Green Tea Yarns
My name is Sadie Cuming and I live on the Mornington Peninsula in Victoria, Australia.
I am the owner and yarnie behind Green Tea Yarns. 
From an early age I was playing in my grandmother's needlework box (she was a great seamstress and knitter)… weaving and plaiting threads to make colourful necklaces and bracelets. I made hand sewn and embroidered bags of felt and glued on gilt buckles to wear to school along with the thread necklaces and bracelets. I must have looked quite the sight with my creations! From that time on I've had a keen love of wearable art, ranging from clothing to silver jewellery and glass beads, and more recently knitting and crochet.

 

I have a degree in Textiles and Fashion from Ravensbourne University (in the UK), and pursued an interest in natural dyeing and small woven works at that time which I used in some of my early clothing designs. I've continued to have a keen interest in fashion and textiles throughout my life, including the work of different cultures and historical costume.

 

Since coming to Australia ten years ago, I first learnt to crochet (thanks to You tube) and renewed my earlier but very elementary interest in knitting, which in turn has lead me back to dyeing and the fibre world… it's amazing to have come near full circle!

​

I love to travel and learn new things… exploring and creating something new definitely fuels my creative drive, and keeps my passion for an artisan life alive. Each season brings new colours and trends for me to explore, and fresh themes for inspiration (what a source of colour excitement 2020 was!). New fibres and different dyeing techniques spur me on to further develop my dyeing skills and create unique, gorgeous yarns for other creatives.

I have always loved the feel, look and gloss of silk. I found it hard to locate in Australia for my knitting and crochet, so I decided to bring it to the land of Oz myself, and so Green Tea Yarns came about, bringing beautiful hand dyed silk fibre yarns.  I'm in my fourth year and the business has continued to grow … I've moved into new fibres such as linens and cottons for the summer months and warmer parts of the country, and just love the different colours one finds that those different fibres bring about. Sourcing some local Australian yarns has led me to discover some beautiful mohair and wonderfully soft merino, as well as some heavier weights to create with. 

 

The website brings on a different element of work .. I never imagined that I'd be webmaster, social media expert, photographer, dyer, winder, wrapper and Post Office deliverer all in one day! It's necessary to deal with every step of the process.

 

As mentioned, I'm currently exploring some new fibres and yarns always with an emphasis on natural fibres … Mohair, linens, cottons and some interesting merino and linen blends are set to become a new part of the Green Tea Yarn's line up. Every fibre has new challenges to explore … different dyes and treatments to investigate.

​

An exciting development in 2022 - I'm having a new studio built (I previously worked out of my wet studio - aka workshop, and one of the bedrooms in the house). I'm looking forward to more space and my home back! In the mean time I'll be selling from stock and trying to clear the mountain of unwound yarns I have.

​